Services
Meeting the Evolving Need for Cell and Gene Therapy Services
Leveraging The Full Solution™
Oxford Biomedica has created a suite of services that can be used to develop and evaluate any gene of interest (GOI) at any stage.
Oxford Biomedica is leading the industry
in standardizing and optimizing end-to-end adeno-associated virus (AAV) development and manufacturing, so you can bring much-needed therapies to clinic and patients sooner.
Utilizing our expertise and services
helps to accelerate your timeline and save time and resources, while receiving consistent, reliable quality product.
Our robust, versatile suite of services
is faster and more efficient than bespoke solutions and helps us to streamline end-to-end process and product development.
The Full Solution™ Enables End-to-End AAV Vector Production
Oxford Biomedica is a development partner offering comprehensive, fully integrated cell and gene therapy services that can support you at any stage of development. Our robust processes mean that whether we help you design the construct or you bring a construct to us, the outcome will be high-yield, high-quality product.
Our manufacturing processes are designed to accelerate timelines and to support all phases, from earliest development through clinical and commercial manufacturing.
AAV Construct and Plasmid Design
Oxford Biomedica offers expert end-to-end construct and plasmid design services that can start from the simple identification of your gene of interest (GOI).
From this point, we partner with you to develop your GOI into a fully optimized AAV vector, helping you select the
AAV PAYLOAD SEQUENCE

STABLE INVERTED TERMINAL REPEATS (ITRs)

PROMOTER AND OTHER REGULATORY ELEMENTS

AAV SEROTYPE AND CAPSID VARIANT

OXFORD BIOMEDICA DUAL-PLASMID SYSTEM
to create the construct that will best suit your desired application.
Our team will then design and perform manufacturability assessments, providing you with full support and documentation to rapidly move your project to the next level.
Our design process is built to systematically identify and address any potential concerns at the earliest possible point, across a range of product requirements. We get it right the first time.
Analytical Method Development
Our strong analytical core plays a central role at Oxford Biomedica. We can perform more than 45 analytical methods—including next-generation sequencing and mass spectrometry—for
biophysical characterization

+

biological activity

+

impurity monitoring

+

control
These methods can be used for full AAV vector characterization, quality control, and stability testing. Click below to see a recent poster presentation on our vector characterization process.
Process Development
To ensure ideal manufacturing conditions, our process development team rigorously evaluates numerous factors, including
UPSTREAM PROCESSES

such as plasmid and construct design, cell culture, transfection, and vector harvest

DOWNSTREAM PROCESSES

such as vector purification and concentration

ANALYTICAL METHODS

FORMULATION
GMP Manufacturing
We are fully Good Manufacturing Practices (GMP) compliant, providing consistent, high-yield AAV gene therapy product that can be readily scaled to commercial levels while also meeting rigorous safety, efficacy, and stability requirements.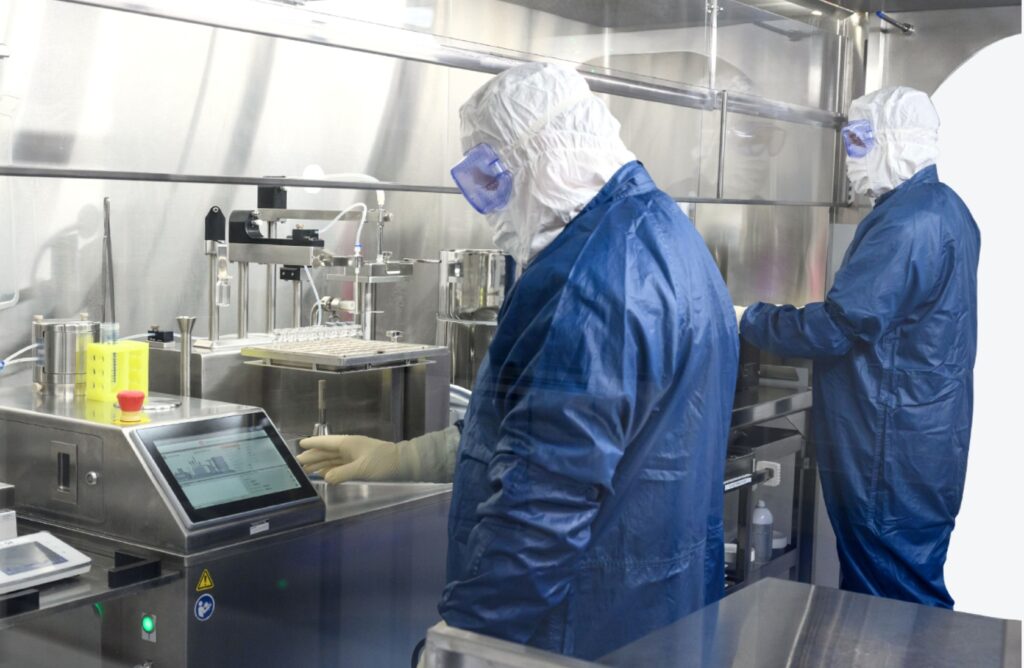 QA Release
Our quality team performs a detailed quality assurance (QA) release evaluation for every batch, including analytical testing and production records review, to ensure that your product achieves regulatory success.
Our process adheres to the most stringent regulatory guidelines, so that drug quality is not a concern when it comes time to test your product in the clinic.
Stability Support
Our analytics and quality teams routinely test and document product stability to assess product readiness for use in clinical applications.
Dedicated stability team manages all

GMP stability testing

We can develop GMP stability studies for

cell banks, drug substance, and drug product

Continuously monitored stability chambers support

-80 °C, 2 to 8 °C, and 23 to 27 °C (at 60% relative humidity)

routinely and can support additional stability storage requirements as needed

We can help design ICH-compliant stability studies, assist with

stability data evaluation, and support shelf-life determination
CMC Support
Our extensive chemistry, manufacturing, and controls (CMC) support capabilities benefit from the technical expertise of our program management leads. Our CMC expertise includes preparing and filing regulatory submissions for commercial authorization. Our cell and gene therapy service experts have the experience and acumen to direct cross-functional teams to ensure they deliver to the highest standards throughout our CMC drug development.
Technical and Process Development
Excelling at Technical and Process Development in AAV Gene Therapy
At Oxford Biomedica, we understand that careful research and thoughtful product development are the building blocks for effective and efficient product manufacturing.
That's why our process development group features a team fully dedicated to AAV gene therapy construct design, process development, analytical development, and formulation development.
Our industry-leading development teams recognize their central role in pursuing groundbreaking innovations, and they are committed to continuing this organizational imperative.
As one example of our innovative R&D, we have produced a formulation that keeps AAV vectors stable at 2-8 °C for (at least) 12 months.*,† *NOTE: Based on 12-month testing parameters. Stability may be longer.
†Patent pending.
Analytics
Analytics Underpin Cell and Gene Therapy Services
Advanced analytics at Oxford Biomedica include a comprehensive suite of more than 45 in-house methods that can be leveraged and used for biophysical and biochemical characterization, biological activity, impurity, quality control, and other types of essential monitoring. Process, analytics, manufacturing, and QC teams openly share data, and cross-functional teams work to maximize the value of every output.
Our sophisticated analytics have helped optimize dual- and triple- plasmid system integration have enabled maximization of our AAV gene therapy titers and quality
Our robust back-end analytics mean reliably accurate vector characterization
GMP Practices
AAV Vector Production and GMP
At Oxford Biomedica, we provide consistent, pure, high-yield products while being fully compliant with GMP.
The Full Solution™ suite of services routinely delivers stable, purified, commercially viable amounts of GMP viral vectors at the 500L scale and will scale up to 2000L.
We are a multiproduct GMP manufacturing facility, so our cell and gene therapy services have the capacity to simultaneously implement multiple projects.
The innovative, proprietary processes implemented at Oxford Biomedica are designed to support quality in all phases of clinical and commercial manufacturing, including
plasmid and construct development

+

cell bank

+

vector production

+

process and formulation development

+

analytical development

+

full GMP drug substance and product manufacturing
Quality and Regulatory Support
Quality and Regulatory Support for Our Cell and Gene Therapy Services
A key priority at Oxford Biomedica is maintaining the highest product quality. Our commitment to quality shows its value through our delivery of quality products to patients.
Our successful navigation of several regulatory filings is a direct result of quality being a day-to-day imperative that permeates through the whole organization.
We work closely with our partners to enable successful regulatory approval.
The experience and expertise that we bring will guide you to ensure a smooth process. We will partner with you to develop strategies to mitigate risk to your program and ensure constructive relationships with regulatory authorities.
Quality Policy
Oxford Biomedica is committed to the manufacture and delivery of innovative, high-quality cell and gene therapy products. We maintain a culture of quality that is integrated throughout our operations. The Quality Management System provides the framework for consistent execution in accordance with regulatory requirements. Our performance is routinely monitored to drive continuous improvement in our relentless pursuit of delivering life-saving medicines.
In each case, we work hard to uncover the answers to your questions well in advance, to minimize challenges as product development moves forward.
Supporting Any—and Every—Stage of Development
In meaningful ways, your company is different from every other company. Your product is different from every other product.
Because Oxford Biomedica recognizes these facts, we are structured to support you and your unique needs.
Supporting Any—and Every—Stage of Development
Maybe your product is in the early stages of conception. In that case, we can
assist in construct and plasmid design
develop your manufacturing process
offer GMP manufacturing to support your efforts throughout clinical development
Supporting Any—and Every—Stage of Development
Or perhaps you are looking to improve your process, wanting to enhance product quality and productivity. In that case, we can optimize your process while leveraging The Full Solution™, our adaptable, time-tested, robust suite of services, to maximize outcomes while minimizing time and expense.
Supporting Any—and Every—Stage of Development
Or you might be seeking a new partner, one you can lean on for AAV manufacturing experience and expertise. We are the seasoned team you can trust to take your product to the clinic and beyond.
Supporting Any—and Every—Stage of Development
In meaningful ways, your company is different from every other company. Your product is different from every other product.
Because Oxford Biomedica recognizes these facts, we are structured to support you and your unique needs.
Top